Write It UP, Let It Happen
There is abundance beyond your wildest dreams available to you.
Unless (like most of us) … you keep complaining, and worrying about things going wrong, and reiterating things that haven't worked.
What you think and feel and the stories you tell are creating your life the way it is.
And there is something that you can do right now that will make a profound difference in the way your life unfolds. And you don't have to change your beliefs.
Instead…
Power UP Your Imagination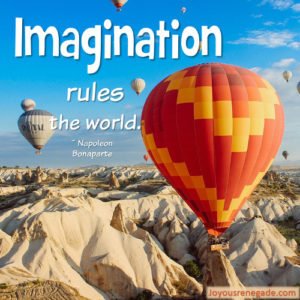 And start telling stories about how things ARE working out for you – the cash IS flowing in, your body IS vibrantly alive and energized, and you HAVE your dream business, dream home and ideal relationships.
Don't tell it like it is.
Tell it the way you want it to be.
Your imagination drives what is happening.
Remember that the key is to tell each story with enough detail and emotion, so that you begin to feel it as if you are living it. And if you practice these stories until they feel familiar, your life will work out in uplifting, magical ways you've been dreaming about.
Some say, "Too much work." "I wouldn't know where to start." "I'm too easily distracted."
Do you want your dreams to come true?
Then
Write and Feel Your Dreams into Being
This can help.
Announcing:
A Simple Writing Process
to Revel in the Life of Your Dreams
for 21 Days 
Saturday, November 19
to Thursday, December 8, 2016
A 21 day webinar coaching series with an easy writing process you can do for 21 days to create the life of your dreams.
So… want to practice telling some new stories about your most amazing, delicious and delightful life?
It's your life and you are walking into a future that is based on what you are thinking and feeling now. If that is not good news, join me in this three week adventure in living the life of your dreams.
This Event Has Concluded.
We're sorry we missed you! But don't worry, we offer other online webinars and live courses.
Click here to view all upcoming events.
Want a more personal designed-for-you experience?
Click here to find out about coaching.
~~~~~~~~~
Image Credits:
* Woman in chair, with outstretched arms by SergeyNivens / Depositphotos
* Hot Air Balloons by Ellehem / Unsplash.com