Thousands Have an Inner Urge-But Don't Follow It
Too often, the urgings of our heart are denied. We allow our loving impulses to be squashed by doubt and indecision, but if you will follow what feels right in your heart you will discover miracles. This is a true story of such miracles.
Sarah had met Nancy three years earlier when their children were in the same class. The women enjoyed each other's company as they volunteered for carnival and other school projects together. For a couple of years, when their children's paths diverged, Sarah and Nancy lost touch, so Sarah was thrilled when she found out that her son Evan had been assigned to the same class as Nancy's daughter Kristy. She looked forward to seeing her friend again and catching up.
But Sarah never saw Nancy. Kristy was picked up and dropped off by her grandparents and Sarah heard from another mother that Nancy had been diagnosed with breast cancer. When Sarah asked Nancy's parents how things were going with Nancy, she was saddened to hear that the breast cancer had metastasized and, although no one knew how much time Nancy had left, Nancy was terminally ill.
Loving Impulse to Connect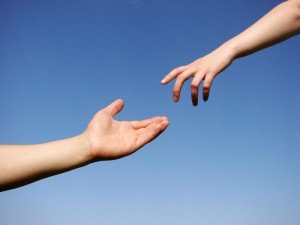 Sarah decided to send Nancy a card in which she would convey all the love, sorrow and regret she felt for Nancy's illness. For several days, Sarah tried to write a card but every time she sat down to write she found herself agonizing over the right words to use to express her feelings. She'd start writing and then stop – uncertain and reluctant, and finally put off completing the task one more day.
Several days passed. Then, on a rainy Tuesday morning, Sarah found out that the end of Nancy's life had come much faster than anyone had expected and she was gone. Sarah was shaken and heartsick; she was wracked with regret. She wished with all her heart that she had completed the card she'd meant to write, that she'd just listened to her inner urgings and written what was in her heart.
In the nights that followed Nancy's passing, Sarah grieved: she would awaken suddenly at 3 am wracked with guilt for not having communicated with her friend while she could, for not offering the support and love she knew her friend had needed. She wondered if there was something, anything that she could do now to support the little girl whom Nancy had left behind.
New Heart's Desire
One morning Sarah woke up with a strong impulse: "I've got to get Kristy a locket," she thought, "a locket that will hold a photo of Nancy and keep Nancy close to Kristy's heart." Sarah felt sure that Nancy would approve, and she felt energized and excited by her idea. She thought about how she would afford such an extravagant gesture. She could raise the funds for it within the school; perhaps Kristy's classmates' parents would like to contribute. Inspired about her idea, Sarah decided to approach the school counselor to feel out the other parents and see if they would get behind raising funds for Kristy's locket.
The school counselor cautioned Sarah: Kristy's teachers and counselors wanted to keep things as normal as possible for Kristy when she returned to school and raising funds for a locket to honor the memory of her mother might be too delicate and sensitive a situation.
One parent even cautioned Sarah that perhaps a locket with Nancy's picture was too personal – it was a thing that a family member would purchase, not schoolmates. But Sarah was not going to let herself to be deterred by doubts and uncertainly this time. She had missed an opportunity when she hadn't written the card to Nancy; this time, she would trust the impulse and stay open to receiving the funds she needed to buy the locket.
One by one, Nancy contacted the classroom parents and put forth her idea – "let's get together to buy Kristy a locket that will hold a picture of Kristy's mom close to her heart."
Miracles Abound
The response was overwhelmingly positive. One person donated a gold chain, one person donated $80 and still donations poured in.
Sarah was thrilled by the generosity of Kristy's classmates and their parents. She thought, "I didn't listen to my guidance when I felt the urge to write that letter. This time I listened and followed my heart. It's amazing what can happen when we follow that loving voice inside and get out of our own way."
Sarah had collected more than $300. She was able to buy a beautiful locket and still had an additional $125 in cash. Sarah took the beautiful chain and locket and the cash and gave it to Kristy's dad, Brad.
Sarah said, "We want you to know that we are all so sorry for your loss. We know that there's nothing we can do to make the loss of your wife and Kristy's mother less painful, but we want to offer you a gift of love. We hope that when Kristy wears this locket she will feel how loved she is and that, even though she can't see her, her mother is never very far away."
Brad gave Sarah a big hug, took her hand in his, and grinned. "You know," he beamed, "Kristy's been asking for a locket. You have no idea how much this will mean to her – how much this means to me!"
Sarah felt a rush of warmth spread out from her heart, as if she was being hugged from the inside out. A tear trickled down her face, as she thought, "but I did have the idea." Miracles can come from listening to your heart.
~~~~~~~~~
Similar Posts:
Inspiration From a Map
What's the Message Here?
Feelings Are Your Guidance From Source