How I Fixed My Power Steering
"Bludgeoned by optimism?!" Me – a "vibrational maniac?" The man doth protest too much methinks.
In the previous post, Howard dares to challenge me in "The Day She Lost All Touch With Reality." I recommend you read that first. Then my explanation of the true reality will make more sense.
"The power set in you … is so far beyond your little conception of the infinite that you have no idea how great the strength that goes with you." ~ A Course In Miracles
If I'm so powerful, how come my power steering wasn't working?, I whined to myself as I dragged my butt back to the chair in front of the computer. Another email, another 10 tasks, I sighed.
Then it occurred to me.
This loss of power in steering our car was a metaphor for a struggle I was having with a project that was floundering. My low mood, my avoidance of tasks, and my reluctance to try a new direction were all indicators of my power loss. My energy was being sucked down every time I even thought about that project. Then I started to worry about other things too, like a big dental bill. With each story I told myself about how difficult and unpleasant this project was, I became more and more miserable.
Perhaps the power steering failure was a gentle wake-up call. If I continued to think and feel as I had been, nothing would change. My thoughts of struggle and lack would bring me more manifestations of struggle and lack.  After all, as Albert Einstein said, "Imagination is your preview of life's coming attractions." If I wanted to change my attractions, I had to stop imagining the worst that could happen. I decided to shift my focus and find my way back up into joy. This time I would use my favorite mind power tool: "What-if-Up."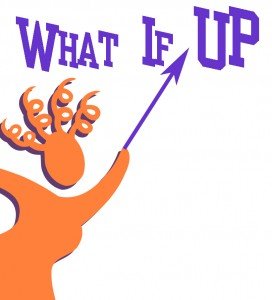 What if I could gently correct my internal steering and this would help resolve the physical manifestation in the car? Now that's a thrilling thought. I've created so many other wonderful events with my mind, why not this?
What if the mechanic is brilliant and finds the problem easily?
What if there is only a little fine-tuning required, nothing major?
What if the total bill is under $100?
What if the total bill is under $50?
Even better: what if the mechanic says that there is nothing even worth charging for and there is no bill?!
Now I was feeling much better, so I wrote a story about how I wanted the project to unfold. In short, I wanted to feel inspired, in the flow with tasks, brimming with ideas, in harmony with my partners, eager to move forward and enjoying every moment.
This afternoon Howard called me from the repair shop. "Guess what?" he said. "You got your wish."
"What?"
"The mechanic couldn't find anything major wrong with the power steering. All they did was lubricate the linkage and tighten a belt. They didn't charge us anything."
"My mind power tool worked well, didn't it?" I said.
"Yes, I was skeptical, but I'm becoming a believer."
I had fixed the power steering by turning on my own power – the creative genius power that was unleashed when I reclaimed my joy. I didn't change the power steering directly by telekinesis, but the right attitude attracted other people with a similar flowing attitude to help. Thought by thought, one better feeling at a time, I turned from feeling bad to feeling good, and joyfully held my focus on what I wanted.
Understanding the astonishing power of my mind and steering my feelings gently towards joy is the key to creating anything I want. In the words of Abraham-Hicks,
"It is our absolute promise to you
that when you understand
the power of feeling good now,
no matter what,
you will hold the key to the achievement
of any state of being,
any state of health,
any state of wealth, or
any state of anything you desire."
~ Abraham-Hicks (Ask and It is Given)
My feelings let me know how tuned in I am to "the power set in me" and as Wayne Dyer likes to say "feeling good = feeling God."
~~~~~~~~~
Similar Posts:
Joy First is Key to Success With Law of Attraction
The Day She Lost All Touch with Reality – by Howard Staples (the prequel)
Easiest Speech Ever (1 of 2) – What-If-Up
Easiest Speech Ever (2 of 2) – The Power of Flow