Deliberate Creation of a Dream Neighbourhood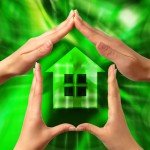 My husband Howard and I were still dating when my man first started talking about living in community. I was horrified! Surely that meant living in a commune with only a private bedroom and sharing everything else! Indeed, he was already living like that in a little old house in a residential neighbourhood far from the centre of town with two house mates and the only privacy his bedroom. This was not for me. I lived on the top floor of a brand new luxury condo with two bedrooms in the West End of Vancouver. I was living alone and loving it!
"I could never have just a bedroom and share everything else!" I told him. "I want a house for my own family – preferably on the water."
However, as strange as Howard's ideas of community living seemed to me, I couldn't help falling in love with him.  I hoped that there would be a way to resolve our conflicting desires that would work for both of us.
A short time later a man taking one of my workshops said to me, "Miriam, there is a way that you can have privacy and Howard can have community and it's called cohousing. Cohousers are people who are trying to deliberately create the kind of community that used to occur naturally. Two American architects wrote a book about it."  I managed to track down the exact name and authors of the book and found a copy at Banyen Books in Vancouver. The book was called "Cohousing – A Contemporary Approach to Housing Ourselves" by Kathryn McCamant and Charles Durrett
It was 19 years ago this past weekend (June 27, 1990) that I gave Howard that book as a birthday present; it was a gift that would change our lives forever.
"Cohousing – A Contemporary Approach to Housing Ourselves" was a beautiful book with lots of pictures. We were both intrigued by the descriptions of a new type of housing that provided for community as well as privacy. In the photographs, I saw children of all ages playing safely on pedestrian streets, neighbors sharing their lives over dinner or in the gardens or on the streets, neighbors playing musical instruments and building play structures together and much more. And even more importantly to me, each family had their own private self-contained home. I had a stunning realization: I could live like this! The concept of cohousing offered us the best of both worlds: privacy within our home and community right outside our front door.
The month after his birthday Howard proposed to me and we got married in December 1990. The same month we were married, Howard put an ad in the Common Ground newspaper looking for people interested in building an intentional community. In January 1991 we had the first cohousing meeting at our home in Delta, just south of Vancouver, BC. and by then I was already pregnant with our first child.
It wasn't long before I was fully enrolled in the cohousing dream with Howard and he and I became known as the "burning souls." We were the pioneers, the visionaries instrumental in bringing into fruition the first cohousing community in Canada. Along the way we attracted other powerful visionaries who would become our future friends and neighbors.
Together we held information meetings, found the land, attracted new members, courted the politicians, hired a project manager, a builder, a lawyer and an architectural firm as well as the Cohousing Company (Katie McCamant and Chuck Durrett), created the site design and unit layouts, and arranged financing.
"Never doubt that a small group of thoughtful, committed citizens
can change the world. Indeed, it is the only thing that ever has."
Margaret Mead
Five and a half years from the date of our first meeting – July 19, 1996 – we moved into WindSong Cohousing Community in Langley (near Vancouver), BC. WindSong is an award-winning neighborhood with 34 individual homes along two glass covered "streets" that intersect at a 5000 square foot community center. We share our talents and resources, children play safely on the pedestrian streets, and we find many occasions to dine and play, sing and dance, and sometimes vacation together. Our dream of community living has become a reality. (www.windsong.bc.ca)
Last Monday – June 29, 2009 – I had the pleasure of hearing two cohousing pioneers speak in Vancouver: Jan Gudmand-Høyer, the man who started the cohousing movement in Denmark and Chuck Durrett, who, with his wife Kathryn McCamant, brought the cohousing movement to North America. I was reminded once again of the incredible possibilities that can be brought to fruition when people work in harmony and cooperation for their joint benefit. I am incredibly grateful to Jan and Chuck and Katie for bringing their vision of cohousing to the world and to me.
~~~~~~~~~
Similar Posts:
Seniors Cohousing makes senior years healthy, social and stimulating
How Does It Feel?
Easiest Speech Ever (Part 1 of 2): What If Up?