This morning I stopped in to visit a girlfriend.  She invited me in; she made us a lovely breakfast of crepes with strawberries and we had a lively discussion of ideas for making our businesses grow.
When I was preparing to leave I noticed that my car and house keys weren't in their usual place in my purse. I checked my coat pockets. No keys. My sweater pockets. No keys. Strange, I thought, I'm not one to misplace my keys.
I retraced all my steps since I'd arrived: I walked around the back of the house to where I'd admired my friend's new pine tree earlier, to the chair where I'd eaten my breakfast, and  back and forth to the car – twice. There were no keys in my car's ignition nor on the seat and the car was locked.
I was stymied.
Just then my girlfriend, peering over the railing at the top of the stairs, said. "Oh! Check the key rack beside the door."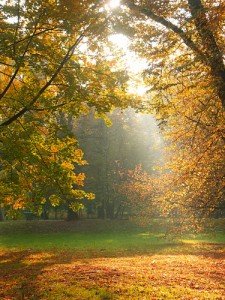 And there, right beside the door, at eye level, in the midst of her household keys, hung my keys.
"I'm sorry," my friend said, "I must have picked them up off the floor when you were hanging up your coat and automatically hung them up. But I didn't remember doing that until I looked down from here and saw the key rack from up here."
I was relieved and intrigued.
Once again, the problem was resolved not by running around, but by looking at the situation from a higher perspective. Literally. 🙂
~~~~~~~~~
Similar Posts:
Soothe Anxiety Before Taking Action
Joy First. Then Anything Else You Have Time For.
Feelings Are Your Guidance From Source