Soothe Anxiety Before Taking Action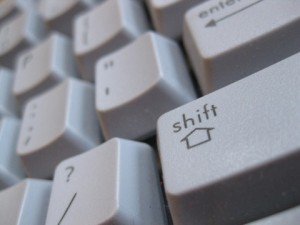 Last night I did not follow what I know to be true. I know that I need to reach for good feeling thoughts before I jump into action – especially if something about the action I need or want to take is bothering me.
If I first soothe my anxiety often the thing that is disturbing my peace of mind dissolves, sometimes even without any action on my part, and any task or activity I undertake unfolds simply and easily. I've had countless of affirming experiences that from a peaceful perspective any action required becomes inspired – no action is wasted.
Generally, setting up the path of least resistance is almost automatic for me; but not last night. Last night I got home from my tai chi class at 9:30pm intent on sorting through a backlog of emails. I felt a little anxious by the thought of all those emails piled up and so I sat down at my desk ready to work.
Computer Troubles
Imagine my frustration when I discovered that the screen of my computer monitor was frozen; I moved my mouse but nothing happened. Unfortunately, this happens from time to time with my lovely new Vista machine; however I've noticed that these events often occur precisely at those times when I'm feeling stressed or anxious.
Most times just turning the computer off and then on again resolves the problem so I turned the computer off and then on, but instead of fixing it a new problem arose. The screen of my monitor appeared so dim it was hard to read but my mouse pointer was bright white. I felt so irritated! I had so much to do before bedtime and now I had this problem to fix before I could even start dealing with the emails.
I Jumped Into Action
First I tried all the settings on my monitor: brightness was already set to 100% and playing with the other settings (sports, text, games, internet) didn't help at all. Precious minutes passed while I searched Google for help. I came across a post in a forum labeled "Dim Screen Bright Pointer" – exactly my problem. The solution, it seemed, was to go to the Catalyst Control Center and adjust the black and white levels. What the heck was the Catalyst Control Center and where the heck could I find it? I knew the program existed on my computer, but I couldn't find my way there. More time passed while I searched on my computer and on the internet.
After another half hour of fruitless effort passed it occurred to me, why don't I just turn the computer off and on again. And that's what I did!
Ninety minutes after I sat down to address my emails the screen was once again bright and easy to read, the pointer was back to its usual shape and brightness, and I was ready to roll.
Forgot To Soothe Anxiety First

I had to laugh – I know that the best thing to do when a computer malfunction happens is to turn the computer off and take a relaxation break. I know absolutely that the computer's malfunctions perfectly coincide with my anxiety levels. Consciously breathing and soothing my anxiety and expecting the best before I do turn it back on tends to resolve most blockages!
Note to self (in the words of one of my favorite teachers, Abraham-Hicks);
"When you soothe the way you feel about the circumstance, the circumstance will resolve itself."
Try This Yourself
You could try this yourself when you feel anxious about a situation that you are in, before immediately taking action. Start by allowing yourself to relax and breathe. Calm your fears with thoughts that make you feel a little better.
For example, I might say these words to myself when my computer is acting up:
I am where I am and it's ok.
I don't have to figure out the solution in this red hot minute.
These emails don't need to be sent tonight.
I've found that these little glitches are generally only temporary.
I've always managed to resolve these little malfunctions.
Sometimes I actually appreciate my computer being down because I'm forced to take a break from the computer.
Sometimes in the path to finding the solution, I discover new things about my computer that are really helpful in the long run.
Often I even enjoy the challenge of finding the solution.
Sometimes a glitch is an opportunity that leads to a much improved situation.
Soothe Anxiety Before Taking Action
Once you are back to a peaceful feeling, follow your joyful impulses. If you get an idea that excites you – take action. Joyful nudges are guidance from your wiser Self. Once you are tapped into your Joy Power you will be guided easily to the things you want. Joy First means tuning into your Source Energy to access the wisdom and clarity of your wise inner knowing. That's why I always say, "Joy First – and then anything else I have time for."
~~~~~~~~~
Similar Posts:
Remedies for Rotten Moods
Relax Max
Joy First. Then Anything Else You Have Time For.
How I Lost My Worry when Mom Got Sick