"Feel Great Naked" in top 25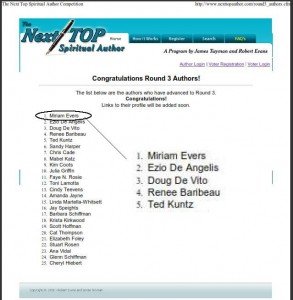 The results of Round 2 of the Next Top Spiritual Author Contest are in. We are thrilled to announce that Howard and I have advanced to Round 3 along with 24 other finalists!!
That's the top 1% of all the authors that entered the contest. Woohoo!!  We've been floating on cloud nine all day long.
Of the 3,000 authors who joined the online contest, 250 authors made it to Round 2, including Howard and I with our book "Feel Great Naked – One Couple's Quest for Heaven on Earth." For Round 2 we had to write a book proposal and a sample chapter.
All 250 book proposals were reviewed by a panel of judges and voted on by the public. The winning entries had to receive final approval by the publisher Hampton Roads.
The announcement of the winners was made during a conference call today.  I was on a client coaching call so didn't hear it live. Howard was so excited when they called out my name first that he couldn't focus enough to capture the names of our friends who had also made it.
Congratulations are coming in from all over the world, one radio host wants to interview us. Our local paper wants to have an update.
Now in Round 3, we have two (or three?)  weeks to write two chapters!  Must be juicy, emotional, compelling, a complete page-turner, and with broad appeal!
Can we do it? We shall see.
Four authors will advance to Round 4.
Thank you so much for voting for us!!
We greatly appreciate this opportunity to go for our dream of being authors.
Winner of Round 2 Coaching Draw
I created a second draw for six months of free coaching for people who voted for us in Round 2 of the Next Top Spiritual Author contest and who wanted to be included in the draw.
All the names were put into a shiny gift bag and my daughter Lani made the draw.
Here's the video I made of Howard's happy announcement of our win and the coaching draw.
I am delighted to announce that the winner of six months of free coaching  is Shirley Bueckert. Congratulations Shirley!
I contacted Shirley and she said "The universe is giving me an awesome gift and I am ready to receive."

The excitement continues.

~~~~~~~~~
Similar Posts:
"Feel Great Naked" in top 250
Neighbors Collaborate in Next Top Spiritual Author Contest
Feel Great Naked