Easiest Speech Ever (Part 1 of 2): What-If-Up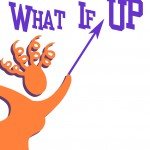 Recently I found myself committed to giving a speech I didn't want to prepare for. I was puzzled; when I had accepted the invitation the prospect of giving this talk excited me.
As the date of the speech approached, it became more and more obvious to me that the thought of writing another speech, let alone memorizing and practicing it, was eating into my peace of mind. And yet I felt I just couldn't bow out – others were counting on me and it wouldn't look very good. I knew that, if I kept up this resistant train of thought, I might end up, ultimately, embarrassed and disappointed with myself.
With every negative thought, I was headed towards a result I didn't want. I understand law of attraction – you get the essence of what you focus on, whether you want it or not.
Albert Einstein once said, "Your imagination is your preview of life's coming attractions." I was focused on the worst that could happen and with every anxious thought, I felt more and more resistant:
What if I had to go back and review everything I'd ever written to extract the best ideas (yawn!) …
What if I couldn't narrow my hundreds of ideas down to just the top 3…
What if I had to listen to myself practice over and over and over again (yawn!) …
What if I couldn't remember my speech …
What if I wasn't able to get my points across clearly…
But in spite of my resistance and procrastination, I didn't despair because I knew something that many people don't. I knew that if I focused on what I did want rather than what I didn't want, I'd feel better: more confident and more inspired.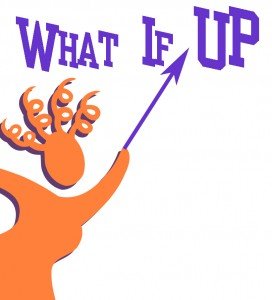 I didn't need to figure out the details of the speech or how I was going to remember it; I just needed to imagine how I wanted the speech to turn out and what experience I wanted to have in preparing for it. The way out was to play "what-if-up." So I lay back in my favorite chair, closed my eyes and started asking myself…
What if the ideas and stories for my speech came to mind easily …
What if I could readily capture my ideas on paper …
What if I were able to focus on just three primary concepts …
What if I could write the speech in a way that was easy and fun …
What if I could remember the speech without having to memorize it …
What if I could deliver the speech with little or no physical practice …
What if I discovered some brilliant ways of making my speech really entertaining and memorable …
What if I came up with a way to actually give the audience an opportunity to experience a "what-if-up" exercise …
What if what I said made a huge difference in my audience's lives …
What if the women really understood that they are powerful beyond words…
When I'd completed my "what-if-up" exercise I felt confident, excited and full of joy.
I had accomplished the only thing I needed to do. I'd imagined the outcome I wanted until it moved me emotionally and now inspiration would follow. And it did. In buckets!
I had amazing, dramatic results in creating and delivering this speech. To find out what happened read my next blog post, but in the meantime, you can try "what-if-up" for yourself. Remember that the key is really to shift the way you feel into more positive feelings, step by step.  Say the what-if-ups until they move you emotionally, then let go of the specific results. Trust that what you've asked for will come in the right way at the right time. And finally, enjoy your life's coming attractions.
"What-if-Up" Key:
Feeling anxious, stressed, irritable or upset? Stomach in a knot?
Stop.  Take a deep breath (or 2 or 3).
Notice what thoughts you are focusing on.
Ask yourself: How would I like this situation to turn out? What's the best that could happen?
What-if-UP. And then what-if-up, and then what-if-up, and then what-if-up …
Let go of the specific results.
Peace and Joy return.
You feel goooooood.
=> Good things happen.
To read what happened after I practiced What-if-UP >>
~~~~~~~~~
Similar Posts:
Joy First is Key to Success With Law of Attraction
Joy First. Then Anything Else You Have Time For.
The Wolves Within – Which One Do You Feed?