Create What You Want with Positive Affirmations
I have been fascinated by the power of thought from the time I was six years old. That's when my father successfully convinced me I could cure warts with chalk. My warts vanished and I told everyone about it, until my father took me aside. He told me, "I know nothing about warts or chalk, but I do know that what you believe becomes true for you."
My passion for learning to create on purpose, with the power of thought, led me to study with Louise L. Hay, author of the book, "You Can Heal Your Life." Louise led me to practice positive affirmations and visualizations with delightful results. I attracted my dream job, my dream home, and the man of my dreams!
It's been almost 20 years since I created those incredible results and to this day, I still do positive affirmations, although not as consistently. When I do practice turning my negative thoughts around, the results seem almost magical. Health improves. Clients come. Money flows.
Sometimes it's good to have a little encouragement to keep practicing what we know. Don't you agree?
That's why I'm delighted to share this new book by Louise L. Hay with you. I hope it inspires you as it has inspired me.
Experience Your Good Now!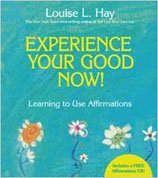 In her book, Experience Your Good Now!, Louise L. Hay discusses the power and importance of affirmations and shows you how to apply them right now to create your best life!
Within these pages, Louise discusses specific topics and concerns (health, fearful emotions, addictions, prosperity issues, love and intimacy, and more) and presents exercises that show you how to make beneficial changes to virtually every area of your life. On the enclosed CD, Louise offers you helpful information about affirmations that you can also use to your benefit.
In celebration of the release of Experience Your Good Now!, I have partnered with Hay House to help spread the word about their fabulous prize giveaway – a spot on the I CAN DO IT! CARIBBEAN CRUISE in January 2011. For your chance to be part of this unique cruise, enter to win at experienceyourgoodnow dot com [link no longer works, promotion ended].
When you purchase Experience Your Good Now! and register at the link above, you will also have access to 6 more bonus gifts from Hay House as well as over 100 gifts, products and services from other sponsors, including me.
Yes you can experience your good now. Positive affirmations are powerful medicine.