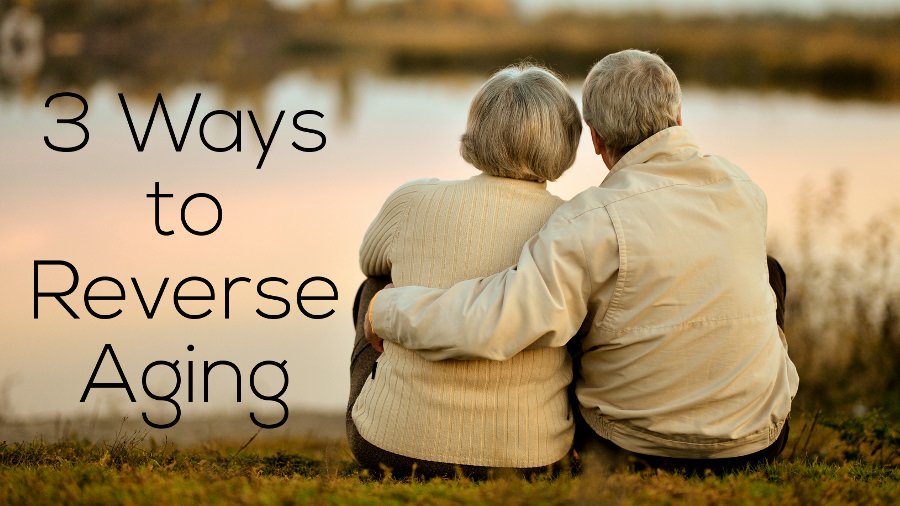 3 Ways to Reverse Aging
After breaking his hip two months ago, my 92-year-old Dad started to decline rapidly. In very short order, he needed full time care for pain relief, meal prep and using the toilet. Independent living was no longer an option, and Dad was transferred from the hospital to 24 hour long term care.
My two sisters and I were there to help every step along the way, and many times we felt powerless. Dad was having his journey, his way.
And I wondered what the aging process would be like for me.
I got to see my scariest thoughts about aging, come to life.
"Your body breaks down…that's just what happens when you get old."
"This illness runs in families."
"40% of people who break their hips end up in long-term care."
Well enough already!
I knew that if I continued to focus on worst case aging scenarios, I'd more likely be heading in that direction, myself.
So I decided to be more deliberate with my thoughts and focus instead on what I wanted.
You may find these ideas helpful.
1.  Arch or Staircase
Jane Fonda, actress, political activist and fitness pioneer, wrote about two perspectives of aging in her book Prime Time. 
One is the old familiar model of an arch where we grow, reach our peak and then decline. Uggh!
The other model of aging is the staircase. While our physical bodies may decline, in all the ways that are important —our hearts, our wisdom, our spirits– we continue to grow and to expand ourselves.
In this process of aging, we are moving towards wholeness and peace. We keep becoming more of our true selves.
This seemed true of my Dad as well. I could see how he became more loving, accepting and peaceful in his final years.
I definitely preferred the second model.
2.  Set Joyous Intentions for Aging
Another way I could become more deliberate in my thoughts was to set intentions for my third act (age 60-90+).
I heard a conversation with Esther Hicks and Abraham where Abraham said we can live long, healthy lives, and then die happily. "Happy, healthy, happy, healthy, happy, healthy, dead," they said. I love this mantra.
Indeed, I think my Mom practiced this mantra too, because that's how she lived her life.
"The world is but a canvas to our imagination," said Henry David Thoreau . A magnificent life starts in our imagination.
So I took some time to imagine my future self, joyously living life to the fullest.
I would travel to The Netherlands, explore more of Canada with Howard, play with my grandchildren, get more graceful and flexible in Tai Chi, walk long distances with a bounce in my step, cross country ski, learn to cook, deepen my loving relationships, enjoy my community, practice daily rituals of pleasure etc. etc.
Yes! I intend to age joyously, appreciatively, delightfully, and vibrantly!
3.  Turn Around Stressful Thoughts
And what about those scary thoughts that come up around the aging process?
If those thoughts don't feel good, that is guidance from my Inner Being to look the other way.
From now on, when I hear thoughts or words spoken about aging that make me cringe, I'm going to be more vigilant in turning them around.
Like this:
When I hear: "Your body breaks down…That's just what happens when you get old."
I will reply: "But that's not what happens to me.  My journey is of joyous expansion and delight."
When I hear: "This illness runs in families."
I will reply: "This may run in my family, but it doesn't run in me."
When I hear: "40% of people who break their hips end up in long-term care."
I will reply: "Statistics have nothing to do with me. I am creating my own experience and I choose renewed strength and ever-increasing vitality."
Whatever my reply, my intention is to follow what feels better to think, to say and to do in the moment.
There are people who live healthy, happy lives till the very end.
Like my Mom.
Like this 89-year-old granny who takes insanely hilarious selfies. She started to learn photography at age 72 and says it makes her 100 times happier. You are never to old to find purpose and meaning in life.
Even my Dad is still growing towards wholeness and peace. Today he told me he wants to do more singing.  He absolutely loves it.
Conclusion
In truth, we may not reverse aging in our bodies, but we can definitely reverse aging in our minds. And changing our minds is where all our power lies.
So what's still on your bucket list for the next phase of your life?  Please share in the comments below.
~~~~~~~~~
Image Credits:
* Elderly Couple in nature by Aletia / Depositphotos
* Sandals at the beach by Crello / Depositphotos
* Winter Mountain Panorama by Wildman / Depositphotos