101 Joyous Renegade Quotes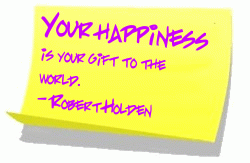 I love inspirational quotes! I find that short pithy one or two liners are really helpful when I'm trying to find a higher perspective or to elevate my mood. Sometimes I'll make a bright-colored post-it out of a favorite saying and put it on my fridge, filing cabinet, bulletin board or vision poster. I may use a favorite quote to illustrate a point in my writing or speeches; I may print one out as a bookmark to give away to a friend; or I may post one on my social media sites like Twitter and Facebook.
A few weeks ago I had an idea – to offer an eBook of my favorite quotes to  the subscribers to my ezine as a free gift.  Over the years, I've collected thousands of inspirational quotes so I found it quite a challenge to winnow my favorites down to just 101 for this collection.
Well I did it!  The eBook is complete and with pride and joy I offer you this collection of inspirational quotes as a reflection of my beliefs and the work that I do.
I call this collection 101 Joyous Renegade Quotes because I call myself a Joyous Renegade coach – and I am adamant about this one thing: "Joy First. Then anything else you have time for." My mission, as a Joyous Renegade coach, is to call you forth to the greatness that you are, to the Joy that is the Source of your power.
The path to joy begins with accepting where you are at right now, making peace with what is, and reaching for thoughts that make you feel a little better and a little better still, until the joy that is naturally present in you rises up and gets expressed. With every improvement in the way you feel, you will have better and brighter experiences.
When you understand the power of feeling good now,
no matter what,
you will hold the key to the achievement of
any state of being,
any state of health,
any state of wealth, or
any state of anything you desire."
– Abraham-Hicks
I hope this eBook inspires those who are new to this way of seeing the world, as well as those who have already embraced it, and that you will use these quotes to inspire you to live with greater energy and optimism.
Behind me is infinite power.
Before me endless possibility.
Around me boundless opportunity.
Why should I fear?"
– Stella Stuart
To get your copy of these quotes, sign up for my ezine with tips for living in joy.
Use these quotes as you will and in-joy!


~~~~~~~~~
Similar Posts:
Joy First is Key to Success With Law of Attraction
Rules for the Joyous Renegade
Feelings Are Your Guidance From Source